IT Risk Management Services
Eagle's Security Risk Management support services assist clients after delivery of security risk assessment.  An effective security risk assessment can include a handful of major risks and ten, twenty or more minor risks, along with dozens of recommendations to treat these risks.  The risk management process is ongoing and never ending.  This can be overwehlming, and most organizations conduct risk management using an informal process at  best.
Certain regulatory frameworks, such as the HIPAA regulations, mandate that organizations implement a formal risk management process.  Through this process, organizations must "implement security measures sufficient to reduce risks and vulnerabilities to a reasonable and appropriate level to comply with the HIPAA Security Rule."  The regulation further mandates that formal documentation of the risk management process be maintained.
Eagle support services will help the organization mature and formalize its risk management process.  Eagle guides CISOs and other security officials with an effective process to ensure that the proper management staff are involved, and that risk acceptance decisions be made at the appropriate level, and that proper documentation of these decisions is maintained.  In addition, Eagle can help prioritize what could be a myriad of corrective action recommendations, such as:
Implementing encryption of mobile devices, workstations and databases
Selecting and implementing a secure email solution
Updating custom applications to include appropriate access controls and audit trails
Auditing vendors and contractors
Creating an internal audit program to monitor employee use of electronic record software
Conducting a technical vulnerability analysis and/or penetration test of the computer network
Updating formal security policies
Implementing an effective employee training program, including initial training and ongoing security awareness training
Upgrading the system backup and conducting recovery testing
Implementing a System Information and Event Monitoring System and/or audit log monitoring system
Implementing a mobile device management system
For organizations who take compliance seriously, the list of projects can be overwhelming.   Simply achieving basic compliance often requires a multi-year effort.  Eagle provides Risk Management support, including both project management and/or project support for any of the above projects.  
We work with your team to create a project plan that prioritizes projects based on overall security risk reduction.   Next, we regularly meet with both management and appropriate staff members to implement the plan.   Eagle Consulting adds value by driving the Risk Management effort, using best-practice processes and creating the documentation which which may be required in various regulatory frameworks such as HIPAA or SOX.
In addition to project management, we can assist with completing specific Risk Management projects. Examples include, but are not limited to, providing staff training, managing the ongoing security awareness training program, conducting a technical vulnerability analysis, or conducting a penetration test.
Let Eagle's Risk Management Support services give you peace of mind knowing that your organization is being guided toward risk management compliance.
Call us today at 216-503-0333, or fill out the form below and someone will be in touch with you.
Office 365 Users... The booming popularity of the Office 365 solution from Microsoft has brought with it a nasty side effect – unwanted phishing emails.  By default, Microsoft offers an email filtering service to eliminate spam and malware called "Exchange Online...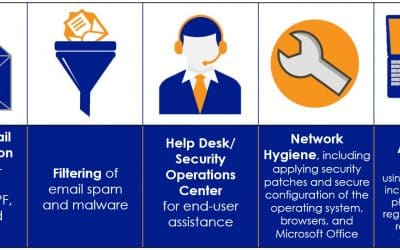 Third Quarter 2019 Phishing Surge and Business Email Compromise Highlight Need for Security Awareness Training Based on data through the third quarter of 2019, email phishing attacks climbed to the highest level in more than 3 years.  Email remains one of the top...
A Business Email Compromise (BEC) threat targets accounting and finance departments, and looks like it comes from an official email account. Don't get caught in a phishing scam!